"Moldy Marvin's Koncourse Da'Bich'n"
Featuring Vehicles Shown Around the Lake in Concourse Style!
Open to pre 1973 , Kustoms, Classics, Hot Rods, Muscle Cars, Lowriders, Vans, VW's, Motorcycles, Trikes & what ever else you may have!
No Year Restrictions on Kustom Motorcycles & Trikes
Registration $ 15.00 Per Vehicle
Spectators Free!
Picnic!
Bring Yer Own Eats!
Please note: The Flier Says 3:00-10:00pm
The actual hours will be...
3:00pm - Dusk! (approx 8:30-9:00pm)
Live Entertainment, Family Games, Vendor Booths and More!
Live Entertainment By:

Charlie Ray & Linda Washington
Casual Fishing for Catfish & Perch
With Valid CA Fishing License
Down Load and Print Fliers Below!
Download Flier 8.5" x 1" 150 dpi .pdf
Download 2 up to a 8.5" x 11" page 150 dpi .pdf
Download 4 up to a 8.5" x 11" page 150 dpi .pdf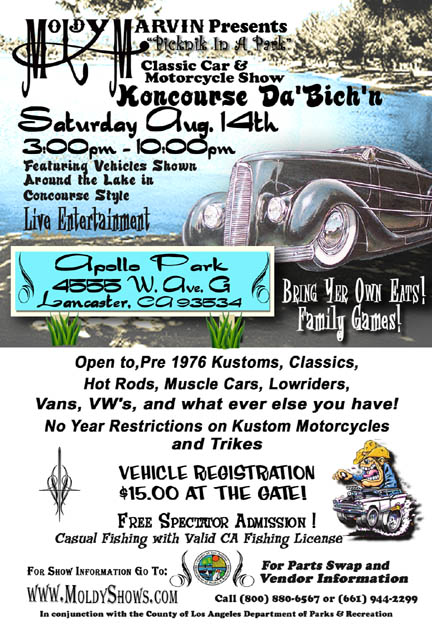 Quick Directions:
Off the 14 go West on G.
Turn into Fox Field Entrance at 50th West and G
Follow the road until you run into Apollo Park!
See the Slide Show Below For Visuals!
Or
Displaying Vendors:
VR Creations / Palmdale
For Vendor and Parts Swap Spaces
Call
(800) 880-6567
or
(661) 944-2299
Parts Swap Booth Space $ 20.00 10'x 10'
Commercial Vendor Space $ 40.00 10' x 10'
Vendor Information and Forms
Please Read the General Vendor Rules First! Click Here!
Vendors will have to fill out and sign both forms below!
if you have any questions Call Moldy at (800) 880-6567 or (661) 944-2299
VENDOR RULES Form Fill out Sign and Return Click Here!
VENDOR REGISTRATION FORM Fill out Sign and Return CLICK HERE!